Greetings Westview Wrestling Families –  We are already in the home stretch of the season.  Picture from senior night is attached for those that did not get one.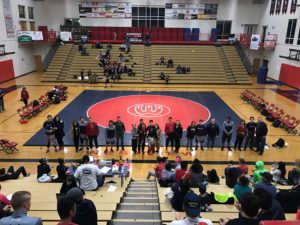 Recent Results –  Last week brought mixed results for our Wildcat wrestlers.  On Wednesday we had a tough loss to Century 47-24, then rebounded very well the next day with a 42-30 win over Glencoe!
Oregon City Invitational Results: Overall our team took 6th place and saw a lot of wrestlers we face in our regional tournament in two weeks.  Our placers included:
Champions: Nic Capetillo at 120 lbs and Joey Coste at 132 lbs
4th placers: Nic Alva at 113 lbs
5th placers: John Lord Donayre at 120 lbs
6th placers: Zeehan Naeem at 113 lbs, Ryan Timmons at 138 lbs, Nic Younkins at 152 lbs, and Jhamante Woods at 220 lbs.
Way to go to our placers!
Competitions this week:  Two Duals again this week
At Aloha on Wednesday 2/8, with Novice/JV at 6:00 pm and Varsity at 7:00 pm. Bus leaves Westview at 4:15.
At Southridge on Thursday 2/9, with Novice/JV at 6:00 and Varsity at 7:00 pm. Bus leaves Westview at 4:15. This is our last dual of the year so come on out and support the team!
No Tourney this weekend: Next tournament is our Regional Tournament on Friday 2/17 and Saturday 2/18 at Liberty.  Wrestling will begin in the afternoon on Friday and carry on through Saturday evening.  More details to come next week.
Go Cats!!!!